For Alcohol Use Disorder (AUD)
AUD is a disease effecting greater than 35 million people in the US alone. For about 33% of this group there is a specific genetic component which Adial has identified and developed a genetic biomarker test which indicates its lead compound AD04 should be highly effective in controlling cravings and heavy and binge drinking, and support abstinence — going straight to the heart and AUD.
AD04
The Company's lead compound AD04 ("AD04") is a genetically targeted therapeutic agent for the treatment of Alcohol Use Disorder (AUD) and was recently investigated in a Phase 3 clinical trial for the potential treatment of AUD in subjects with certain target genotypes, which were identified using the Company's proprietary companion diagnostic genetic test.
The resulting data indicate a statistically significant response in the reduction of heavy drinking days in a subgroup of patients. The subgroup consisted of patients who drank fewer than 10 drinks per drinking day and comprised about two-thirds of the patients enrolled into the study. Adial is in the process of engaging regulatory authorities to refine the future development of AD04.
Adial possesses a world-wide, exclusive license from the University of Virginia Patent Foundation to commercialize AD04, subject to FDA approval of the product, based upon three (3) separate patents and patent application families, with patents filed and issued in over 40 jurisdictions, including 3 issued patents in the U.S. AD04 has been used in several investigator-sponsored trials and we possess or have rights to use toxicology, pharmacokinetic and other preclinical and clinical data that support AD04 development.
AUD is a potentially multi-billion-dollar market with limited competition & unmet need (accounts for ~5.3% of deaths worldwide and ~5.1% of disease worldwide)
The Lancet reports that alcohol is the number one cause of death in the U.S. & globally among both men and women ages 15 to 49 years
Differentiated product
Designed to reduce drinking levels (believed through reduction of craving)
Potential to facilitate abstinence
Limited side effects to date
Genetic Test Changes the Conversation
Makes a different conversation with Physician possible
"First step is a test to see if you have a genetic cause for AUD"
Gets Patient buy in
"Treatable Genetic-based disease," rather than a personal weakness or character flaw.
Expected to increase, fill rate, and compliance,
35 million have AUD in the USA alone, Today about 8% seek treatment, with this new conversation we expect that number to increase.
AD04 is Designed to Meet the Market Need and Allow Management of Heavy Drinking
New Method of Action (MOA)
for treating AUD
Designed to reduce craving in order to effectively curb alcohol intake
Reduction of heavy drinking target indication
Ends need for abstinence, a major hurdle in starting & continuing pharmacologic therapy
Good safety profile, high tolerability
Brings 20+ year record of acute clinical use with positive safety and tolerability profile
Lowers the stigma of AUD and empowers the patient
Takes treatment from detox clinics & group therapy- realizes patients' desire of reduced drinking
Oral daily dosing (twice-a-day now, once-a-day expected)
Maximal patient compliance, ease of use & increased effect
Genetic Tests for Precision Medicine
Companion genetic biomarker test identifies 33% of patients likely to benefit from AD04
AD04 Expected Unique Profile
Compared to Currently Approved Products
Key expected unique selling points drive AD04 differentiation—Expected to meet patient needs
Novel Mechanism of Action for Treating AUD
Studies suggest that blockade of serotonin-3 receptors will influence the dopamine reward system activated by alcohol, decreasing dopamine release and attenuating craving for alcohol
AD04 believed to interfere with the dopamine reward system and lead to reduced alcohol intake
In the study, patients were randomly assigned (i.e., randomized) to either drug or placebo. All patients were provided behavioral therapy (i.e., counseling) to reduce drinking weekly as the standard of care.
Primary endpoint of severity of drinking measured in drinks per drinking day and secondary endpoint of frequency of drinking measured in percentage of days abstinence were successfully achieved.
Approval expected to be based on a Heavy Drinking Days (HDD)* Phase 3 end point. Trial not powered for the percentage of HDD; still achieved significance.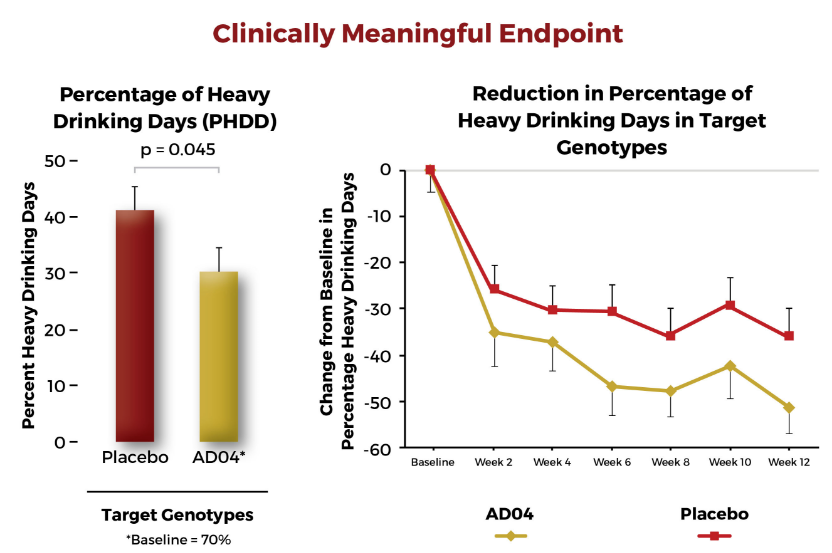 AD04 — Phase 3 Trial Design
303 Randomized Patients in Study
Open accordion
Future trial design and size are TBD pending outcome of regulatory meetings.
Intellectual Property
Protection through at least 2031
Patents expected to prohibit competitors from bringing ondansetron to market for AUD at any dose and also at the AD04 dose
Multiple licensed patents to protect AD04
3 patent families under prosecution
Licensed patents issued in >40 countries, including U.S., Europe & Eurasia
Includes obesity, drug addiction, smoking, anxiety and related disorders
While ondansetron's chemical composition is currently off-patent, Adial has an IP strategy surrounding the following:
Use of ultra-low dose ondansetron (0.33 mg/tab.) pursuant to AD04's proposed label
Use of ultra-low dose ondansetron (0.33 mg/tab.) pursuant to AD04's proposed label
Potential competitors should be unable to modify the genetic panel without expensive and long clinical trials
AD04 — Commercialization Strategy
Launch commercially with niche sales forces, expanding with success
Commercialization Plan
Stage 1
Launch Targeting Psychiatrists & High Prescribers
Specialty sales force
Core markets and countries
Focusing on the top 10k targets in the U.S.
Focusing on the top 3k targets in the EU5
Modest sales goals
Stage 2
Expand into the Broader Market
General practitioner sales force to saturate market
Direct to consumer marketing in U.S.
Expansion beyond core countries
Blockbuster potential